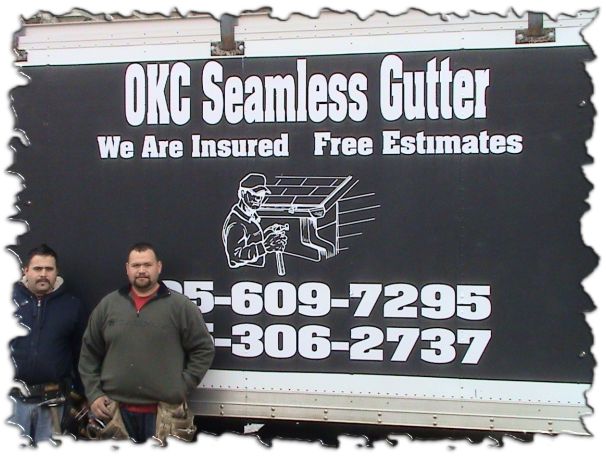 About OKC Seamless Gutter
OKC Seamless Gutter was established 10 years ago.

The company was founded, and continues to operate, with two main objectives: To provide the highest level of professional workmanship available and to provide the highest level of customer support and satisfaction. To that end OKC Seamless Gutter provides warranty on both materials and workmanship. Employees of the company have no less than 10 years of experience each.

The primary materials used are Seamless Aluminum, Copper and Galvanized Steel. The most popular residential application is 5 in. Seamless Aluminum OG style gutters with 2 x 3 downspouts, which are available in 30 colors to coordinate with most home color schemes. Other seamless gutter sizes available are: 6 inch OG style, 5 half-round, 6 half-round.. Other optional downspout sizes are: 3 round, 4 round, 3x4 rectangular, and on a more aesthetic note, rain chains. Seamless copper is available in the above-mentioned sizes as well. Other shapes such as box gutter, fascia gutter, or custom designs are fabricated in our sheet metal shop and installed in 10ft sections.

Based in Oklahoma City, OK , service is provided to all of the State of Oklahoma, with no limitation to job size, large or small.

Thanks again for visiting and We personally look forward to your business.

Sincerely,
Jose and Edgar De Loera, Owners.

Why Seamless?
Seamless gutters have so many advantages over the old gutter systems, it's a wonder that anyone would use anything else. Seamless gutters offer the obvious advantage of no seams ! This means that you don't have to worry about water dripping between the seams anymore.